Support us
Our work has a very broad impact: we help all philosophers, and we develop technology that can be used across the arts and humanities.
Our current funding is limited and insufficient to achieve all our objectives. With more funding, we could do a lot more. We could improve PhilPapers, develop new services that will support research in philosophy, and do more research at the intersection of the humanities and computing.
Software development is very expensive and we are always short of funds to be able to afford the best programmers and infrastructure. In the corporate world, millions are spent to do the kind of things that we do with a very limited staff. We could do a lot more with more support.
If you want to help research in the arts and humanities, you may want to consider a donation to CDP.
Donations to CDP are managed by the University of Western Ontario. All funds go towards staff and equipment for the Centre's projects. If you are thinking about a donation, please contact the Centre's director, David Bourget ().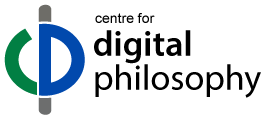 (c)opyright 2013-2022, David Bourget
Centre for Digital Philosophy - Western University
Stevenson Hall, 1151 Richmond St., London, ON, CANADA, N6A 5B8
Tel: 519-661-2111 x 87770, Fax: 519-661-3922