Job opportunities
We develop technology to help philosophers explore the big questions. If you'd like to be part of this and can help in any of the areas below, please drop David Bourget a line with your CV (). We are always on the look out for programming talent or individuals with a mix of skills in philosophy and computing. We currently have openings or expect to have openings for the following types of positions.
Software developer
We are looking for a talented software developer to join our team! We develop web services for academic philosophers using a wide range of high-performance and high-availability web technologies. We also solve challenging big-data problems such as the automatic classification and attribution of publications.
*Note*: Are you a philosopher with a programming background looking to make the switch to a non-philosophical career? Please contact us even if you do not meet all the requirements below!
Qualifications and Skills:
At least 1 year of experience in software development
Experience in object-oriented programming in Ruby/Rails, Perl, Java (with Spring and Hibernate), or Groovy/Grails
Execellent working knowledge of relational databases such as MySQL, especially performance and optimization.
Experience building reactive interfaces using Javascript frameworks such as React or Vue.
Experience with high-traffic, distributed web deployments, including software such as ElasticSearch, Memcached, and RabbitMQ.
Excellent working knowledge of web core technologies (HTML, JavaScript, CSS)
Please contact us for further information.
Postdoc in digital philosophy
We are looking for PhDs in philosophy or related disciplines who have an interest in leading computer-enabled projects that advance our understanding of philosophical problems or of philosophy as a discipline. If you are a philosopher with technical skills and would like to put these skills to work for the profession, we might very well have a place for you. Please contact us.
You already have a digital project but need funding to continue? We may have funding for your project, or we may be able to help you obtain an external grant to fund your project. Please contact us.
PhD student in digital philosophy
If you're interested in the use of technology to advance research in philosophy or the humanities, you might want to consider a PhD in philosophy at Western as part of CDP. As a member of CDP, you would have access to unique data and tools from the PhilPapers platform, and you would have the chance to work both with like-minded researchers and professional programmers that can help you in your work. Contact us to discuss your options.
PhD student in computer science and philosophy
Opportunities also exist for co-supervision between philosophy/CDP and computer science. Please contact us to discuss your options.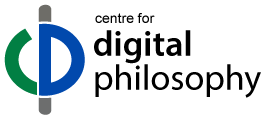 (c)opyright 2013, David Bourget
Centre for Digital Philosophy - University of Western Ontario
Stevenson Hall 3124, 1151 Richmond St., London, ON, CANADA, N6A 5B8
Tel: 519-661-2111 x 87770, Fax: 519-661-3922